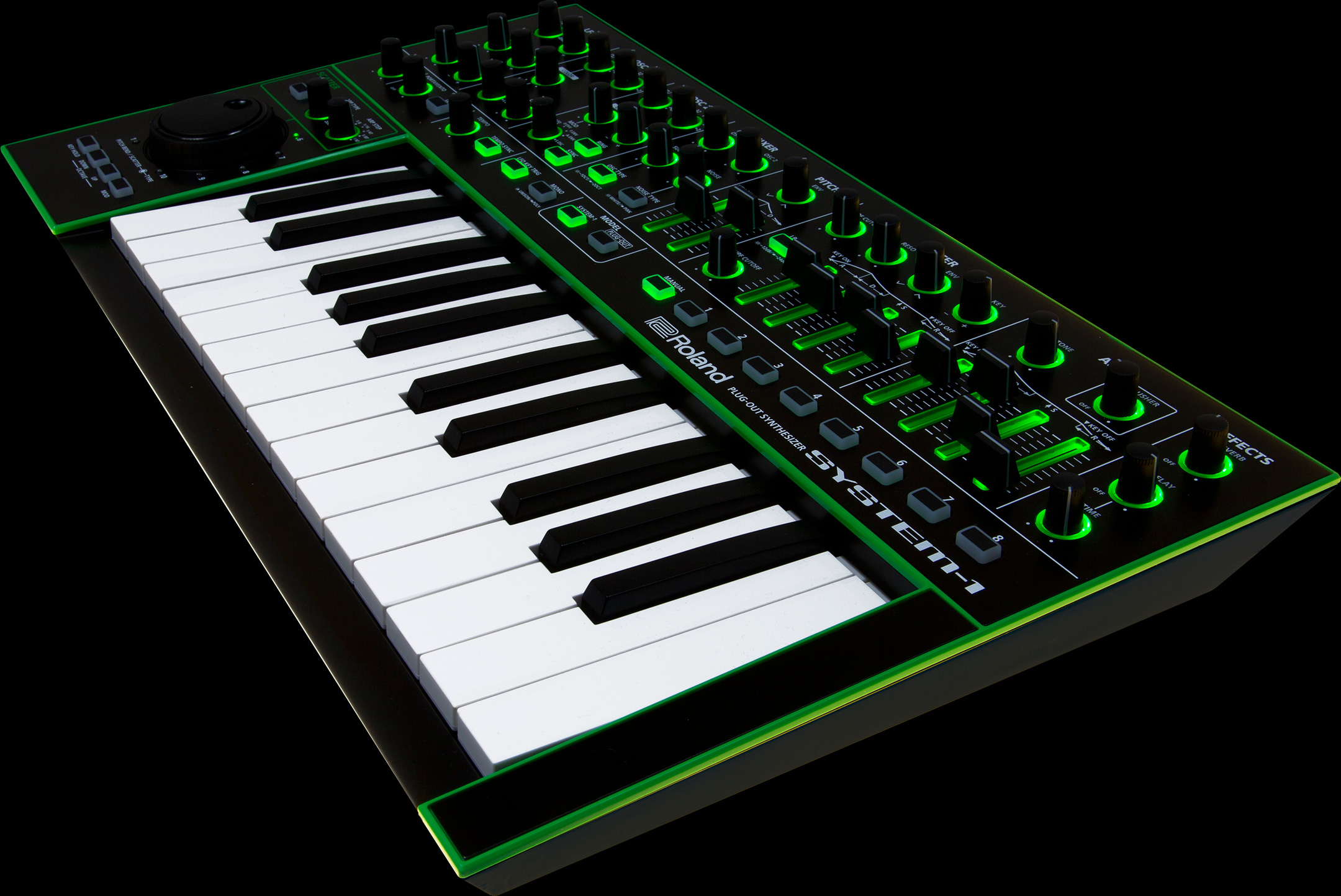 1970-luvulla Roland toi markkinoille legendaariset syntikkamallit SYSTEM 100, SYSTEM 100M ja SYSTEM 700. Kyseiset modulaari- ja semi-modulaarisyntikat ovat toimineet suunnannäyttäjinä nykyisille soittimille varsinkin soundiensa ja joustavuutensa ansiosta. Edeltäjiensä tavoin myös System-1:ssä on erittäin laaja, helposti muokattava soundipaletti. Soundivalikoimassa tuntuu ja kuuluu Rolandin 40 vuoden kokemus.
Neljä oskillaattoria, joilla saat aikaan tukevia perussoundeja
Oskillaattoriväreillä luot jatkuvia vaihteluita aaltomuotoon; suoraviivaisesta kompleksiseen
Parametrejä voidaan ohjata LEDeillä varustetuilla, fyysisillä säätimillä
Arpeggiaattori, Scatter-toiminto
Scatter-säätöpyörällä saat valittua kymmenen eri fraasi-variaatiota. Jokaisesta variaatiosta on lisäksi kymmenen eri syvyyttä
-12dB - -24dB filtterityypit sekä erillinen HPF
TONE-säädin sopivan äänenvärin löytämiseksi
Crusher-säätimellä saat soundiisi modernia kulmaa
Itsenäiset viive- ja kaikuprosessorit
Viive ja/tai LFO voidaan synkronoida tempoon
Virtaviivainen, 25 koskettimen kompakti koskettimisto
Rolandin pienikokoisin syntikka mahtavilla ominaisuuksilla

73 Physical Controls. 100 Percent Synth.
System-1:n sydän on Analog Circuit Behavior-mallinnus (ACB), jonka avulla analogisynien pienimmätkin vivahteet on analysoitu. Kyseinen mallinnus on nyt luodun soundipankin perustana. ACB -teknologia yhdistettynä System-1:n klassisen kauniisiin ja äärimmäisen moderneihin soundeihin ei jätä ketään kylmäksi.
Hyvän soundin lisäksi System-1 pitää sisällään live-esiintymiseen suunnitellut ohjaimet, täysin uudenmuotoisen käyttöliittymän, vankan rakenteen sekä rivistön säätimiä, jotka osoittavat: Tämä on SYNTIKKA! p>
Plug In ja Plug-Out
The System-1 voi toimia Rolandin klassisten syntikoiden softaversioiden alustana. Kyllä! - System-1 voi kontrolloida legendaaristen Roland-syntikoiden plugariversioita ja vieläpä niin, että System-1 toimii näiden plugien "isäntänä"…ilman tietokonetta! Saat myös vaihdeltua System-1:n omien soundien ja plugarisoundien välillä. Tästä ominaisuudesta, jota kutsumme nimellä "Plug-Out", olemme erityisen ylpeitä.
Veikkaamme, että myös Sinä innostut, kun pääset kokemaan uuden SH-101 -softasyntikan äärimmäisen autenttisuuden ja System-1:n intuitiivisen yksi-yhteen -ohjaimen, joka yksinkertaisesti toimii. Ja rehellisyyden nimissä, kukapa osaisi tehdä paremman Roland-softasyntikan kuin Roland itse? SH-101 on vasta alkua —lisää PLUG-OUT-syntikoita on tulossa.
Pari asiaa vielä…
The SYSTEM-1 näyttää todella upealta ja se on suunniteltu toimimaan saumattomasti yhdessä muiden AIRA-tuotteiden kanssa. Voit myös kytkeä SYSTEM-1:n tietokoneeseen USB-väylän avulla, ja lähettää sekä vastaanottaa Audiota ja MIDIä. MIDI-kello synkronoi SYSTEM-1:n muiden AIRA-laitteiden kanssa.
SYSTEM-1 Version 1.1 uudet ominaisuudet
Varmuuskopioi ja palauta — hallinnoi omia asetuksia helposti USB-varmuuskopion ja -palautuksen avulla.
Snapshot — lähettää kaikkien nappuloiden ja liukujen asennot Control Change -tietona
LPF CUTOFF Resolution — The increment size for "LPF CUTOFF" kun "MODE = SYSTEM-1" was modified.
Muuta — yleisiä toimintoihin ja PLUG-OUT:iin liittyviä parannuksia.